Main content starts here, tab to start navigating
Little Five Points Corner Tavern
Cocktails, Liquor & Wine
Cocktails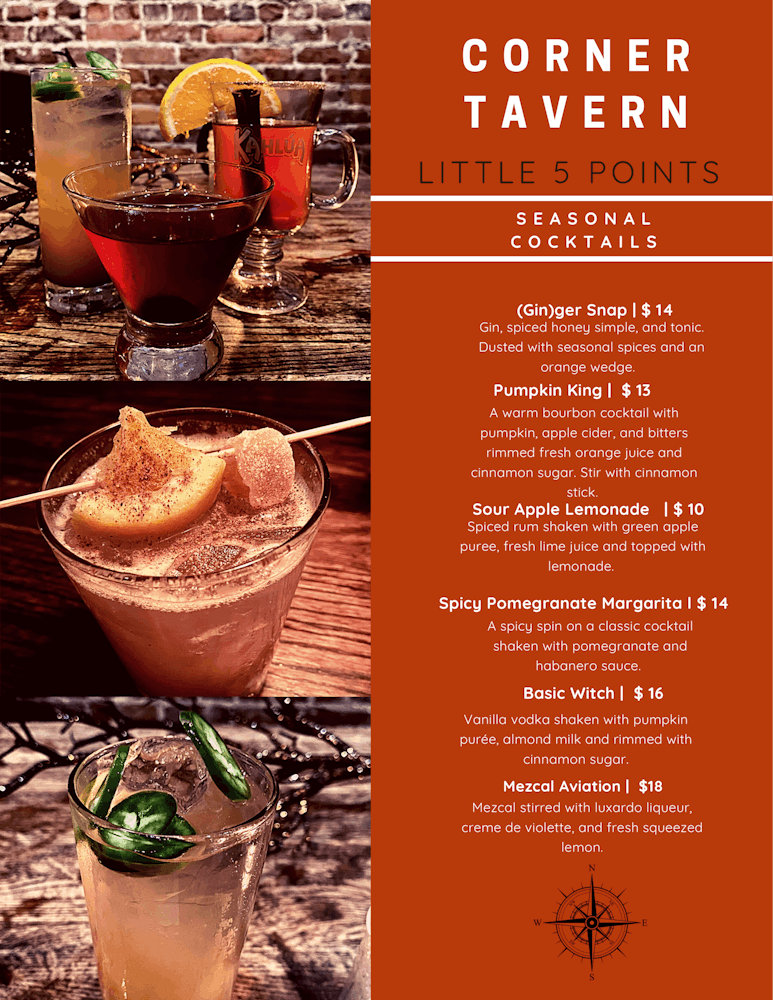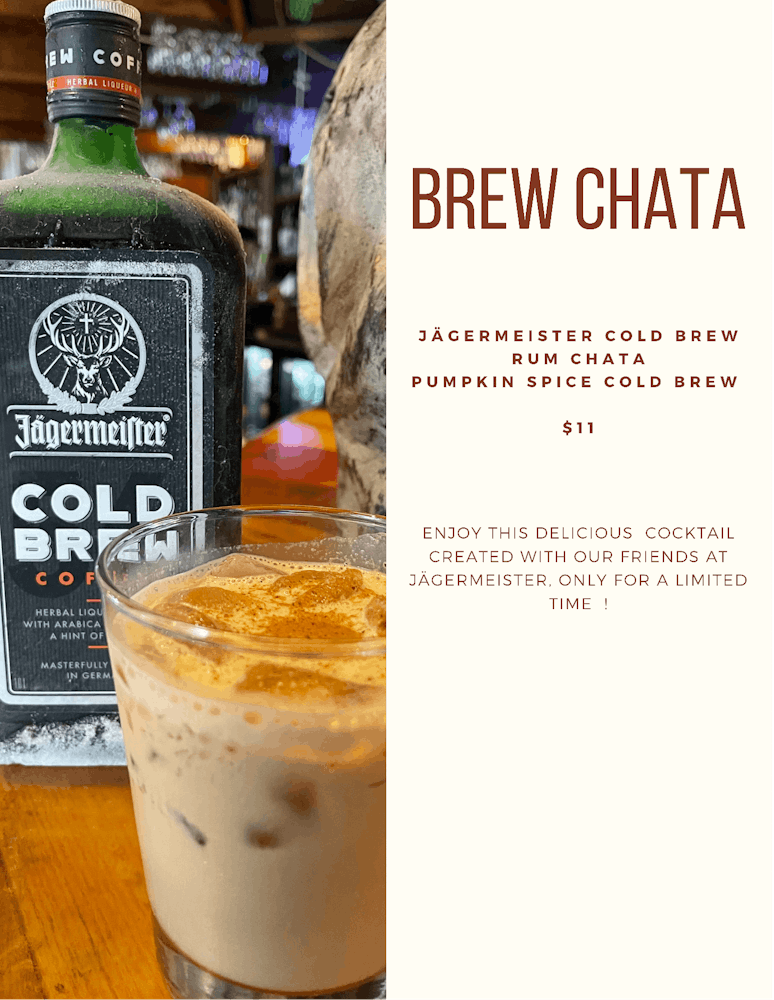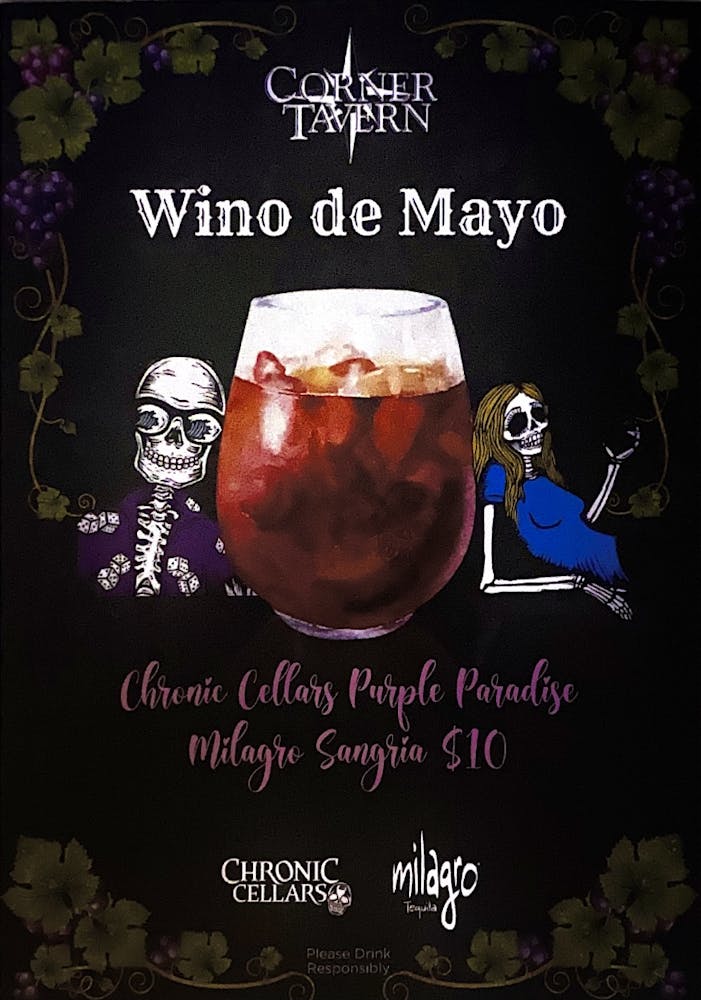 Bourbon Cowboy | $11.00
Redemption Rye and Old Smoky Root Beer Whiskey, with Angostura & Peychaud's Bitters, Topped with Ginger Ale, Fresh Grated Nutmeg and a Flamed Orange Twist
Beach Water | $10.00
Bacardi Silver, Malibu Coconut, Sailor Jerry Rums, Pineapple and Grenadine
Watershed Old Fashioned | $9.50
A classic Old Fashioned cocktail made with quality ingredients: Bourbon, Bitters, Sugar and Ohio Cherry Juice
Canned Cocktails
Cutwater Bloody Mary (10% / $8.50)
This veggie-forward cocktail features our award-winning Vodka, ripe tomatoes, and spices for a classic Bloody Mary that is seriously drinkable.
Cutwater Tiki Rum Mai Tai (12.5% / $12.00)
A Taste of the Tropics. Tiki Paradise has been found with our signature Mai Tai. It starts with a blend of our award-winning spirits. Cutwater Barrel Aged Rum and our Bali Hai Tiki Gold Rum. The pineapple and coconut flavors then combine with our unique citrus mix to balance this bright cocktail with an added level of aged depth – it's all you need for a vacation state of mind.
Cutwater Rum Mint Mojito (5.9% / $9.00)
Featuring notes of muddled mint, lime and cane sugar with award-winning white rum and soda water, this Cuban classic is a poolside legend.
Finnish Long Drink ($5.00 / ABV 5.5%)
From the happiest country in the world comes a top selling category new to America. A unique taste of natural grapefruit and juniper berry flavors with gin.
Finnish Long Drink Cranberry ($5.00 / ABV 5.5%)
Long Drink Cranberry is a cranberry soda with a gin kick. Finland's most enjoyed alcohol is a refreshing thirst quencher and great for any occasion. Enjoy!
Finnish Long Drink Zero ($5.00 / ABV 5%)
Long Drink Zero is the same great taste but with zero sugar and zero carbs. Only 99 calories but still with 5.0% alc./vol.
Vodka
Absolut
Absolut Mandrin
Absolut Peppar
Cathead
Deep Eddy
Deep Eddy Ruby Red
Deep Eddy Cranberry
Deep Eddy Lemonade
Deep Eddy Lime
Deep Eddy Peach
Deep Eddy Orange
Deep Eddy Sweet Tea
Flippin Bird Pink
Grey Goose
Ketel One
Reyka
Stoli
Stoli Blueberry
Stoli Citrus
Stoli Hot
Stoli Orange
Stoli Peach
Stoli Vanilla
Stoli Razberi
Titos
Old 4th Ward
RUM
Bacardi
Bacardi Coconut
Bacardi Banana
Bacardi Anejo
Captain Morgan
Cutwater Tiki
Cutwater Tiki Monkey
Flor de Cana
Flor de Cana 12yr
Goslings
Malibou
Meyers
SCOTCH
Dewars
Glenmorangie
Glenfiddich
Johnny Walker Red
Johnny Walker Black
Macallan 12 Year
Glenlivet
Oban 14
Glenfiddich
Highland Park
CORDIAL
Averno
Campari
Cointreau
Drambuie
Fernet
Fernet Menta
Frangelico
Goldschlager
Grand Marnier
Hennessy
Irish Cream
Jager
Kahlua
Midori
Pimms
Root
Rumplemintz
Strega
Tuaca
Aguardiente Antioqueño
Tequila
1800 Coconut
1800 Reposado
1800 Silver
Altos Reposado
Altos Silver
Casamigos
El Jimador
El Silencio
Espolon Anejo
Espolon Silver
Espolon Reposado
Herradura Anejo
Herradura Silver
Jose Cuervo Gold
Jose Cuervo Silver
Patron Silver
Patron XO
Milagro
Montelobos Mezcal
GIN
Beefeater
Bluecoat
Bombay Sapphire
Bummers & Lazarus
Hendricks
Hendricks Orbium
Hendricks Midsummer
Tanqueray
Plymouth
Old 4th Ward
WHISKEY
Bushmills
Crown Royal
Crown Royal Apple
George Dickel Rye
Jameson
Jameson Black Label
Jameson Caskmates
Jameson IPA
Tullamore Dew
Tincup
High West Campfire
High West Rendezvous Rye
High West Prairie
Redemption Rye
Redemption High Rye
Resurgens Rye
Old 4th Ward
BOURBON
Angels Envy
Basil Hayden
Buffalo Trace
Fiddler Bourbon
Gentleman Jack
Jack Daniels
Jack Fire
Jack Honey
Jack Single Barrel
Jack Single Rye
Jack Single Select
Jim Beam
Jim Beam Black
Knob Creek
Larceny
Makers Mark
Redemption Bourbon
Wild Turkey
Woodford Reserve
House
White
Gotham Project Draft Chardonnay 2017 | California
Tropical, citrus, refreshing acidity.
Glass $6.00 | Carafe $24.00
Duc De Valmer Champagne | Merignac Region, France
Delicate beautiful and very festive Blanc de Blanc, Fruity, subtle and gentle.
$5.00
Red
Gotham Project Draft Cabernet Sauvignon 2017 | California
Lush Blackberries, red currants with a long, silky finish.
Glass $6.00 | Carafe $24.00
Hayes Valley Merlot 2017 | California
Red in color, light, brilliant and bright. Aromas of plum, clove and mocha. Flavors of tobacco with a hint of raspberries. Cedar and tobacco, with vanilla on the finish. Medium acidity and tannin. Velvety mouthfeel.
Glass $8.00 | Carafe $32.00
By The Bottle
White
Fat Bastard Sauvignon Blanc 2018 | France
Crisp and refreshing with notes of pear, lime, and green apple.
$8.00 / $32.00
Kris Pinot Grigio 2019 | Italy
Acacia flowers, pear, honey, with a touch of almond.
$8.00 / $32.00
Champagne
Duc De Valmer | Merignac Region, France
Delicate beautiful and very festive Blanc de Blanc, Fruity, subtle and gentle.
$4.00 | $11.00
Rose
Borsao Rose 2019 | Borja, Spain
Strong aroma of berries and white flowers with hints of tangerine and asian pear.
$7.00 | $28.00


Red
Catena 'Vista Flores' Malbec 2016 | Mendoza, Argentina
Ripe, dark red fruit, mocha and floral violet notes.
$40.00
Capcanes 'Mas Donis' 2015 | Montsant, Spain
Grenache, Merlot, Syrah with blackberry, cherry, vanilla, oak.
$38.00
Lange Twins Cabernet Sauvignon 2015 | Lodi, California
Dense cherry flavors and warm spice aromas, smooth tannins.
$35.00